News & Events
ISO 9001 accreditation
December 2021
What a great way to finish the year! We have just received our ISO 9001 accreditation certificate for the Recombinant Products Facility.
It has been a huge team work and we are proud of what we have been able to achieve during such a challenging year.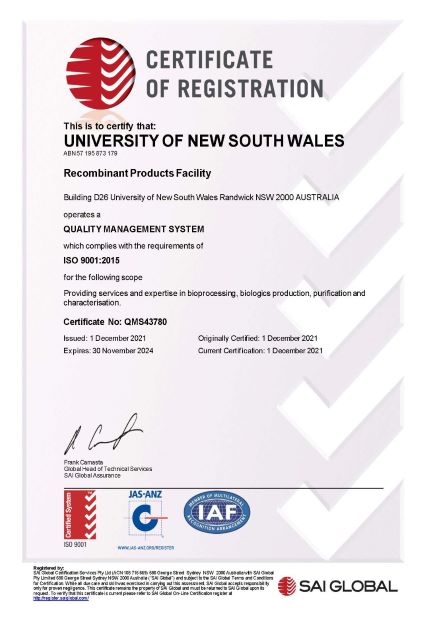 New AKTA chromatography systems
January 2021
Two new AKTA chromatography systems have been installed at RPF on level 3: one AKTA Go and one AKTA Start. The AKTA Go has the newly launched F-9T fraction collector, capable of collecting purified fractions into deep well plates, microplates and small tubes. It is the first of its kind to be purchased and installed in Australia. The AKTA Start is a great addition to the lab as it is compact and easy to use, ideally suited to new users at the RPF.
The RPF has now 6 AKTAs to support your research:1 AKTA purifier, 1 AKTA explorer, 2 AKTA start, 1 AKTA Go and 1 AKTA Pure.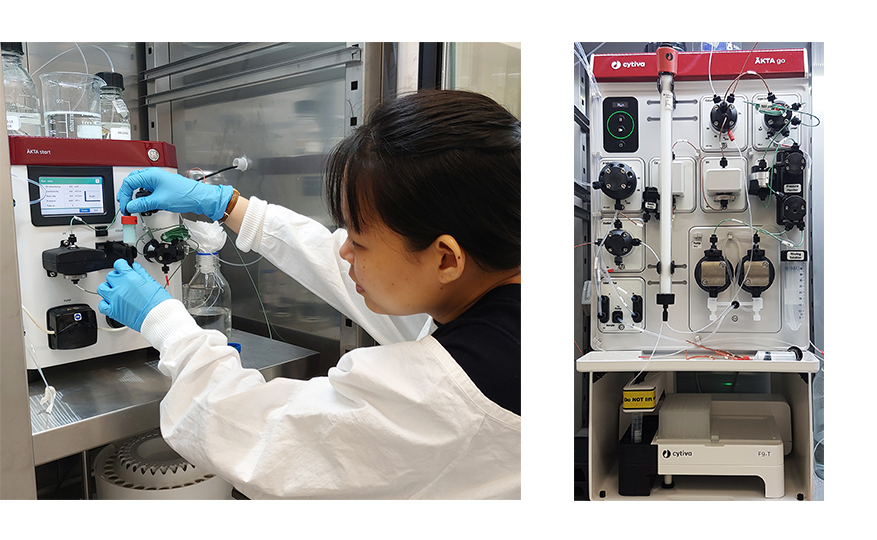 Cell Disruptor
February 2020
The newly purchased Cell Disruptor (Constant Systems LTD) is operational and located in the labs on level 3. The machine is used to lyse cells and is capable of processing many sample types such as bacteria, yeast and algae. A video of how it works can be seen here:
https://www.youtube.com/watch?v=0bqcy3ExKeg&feature=youtu.be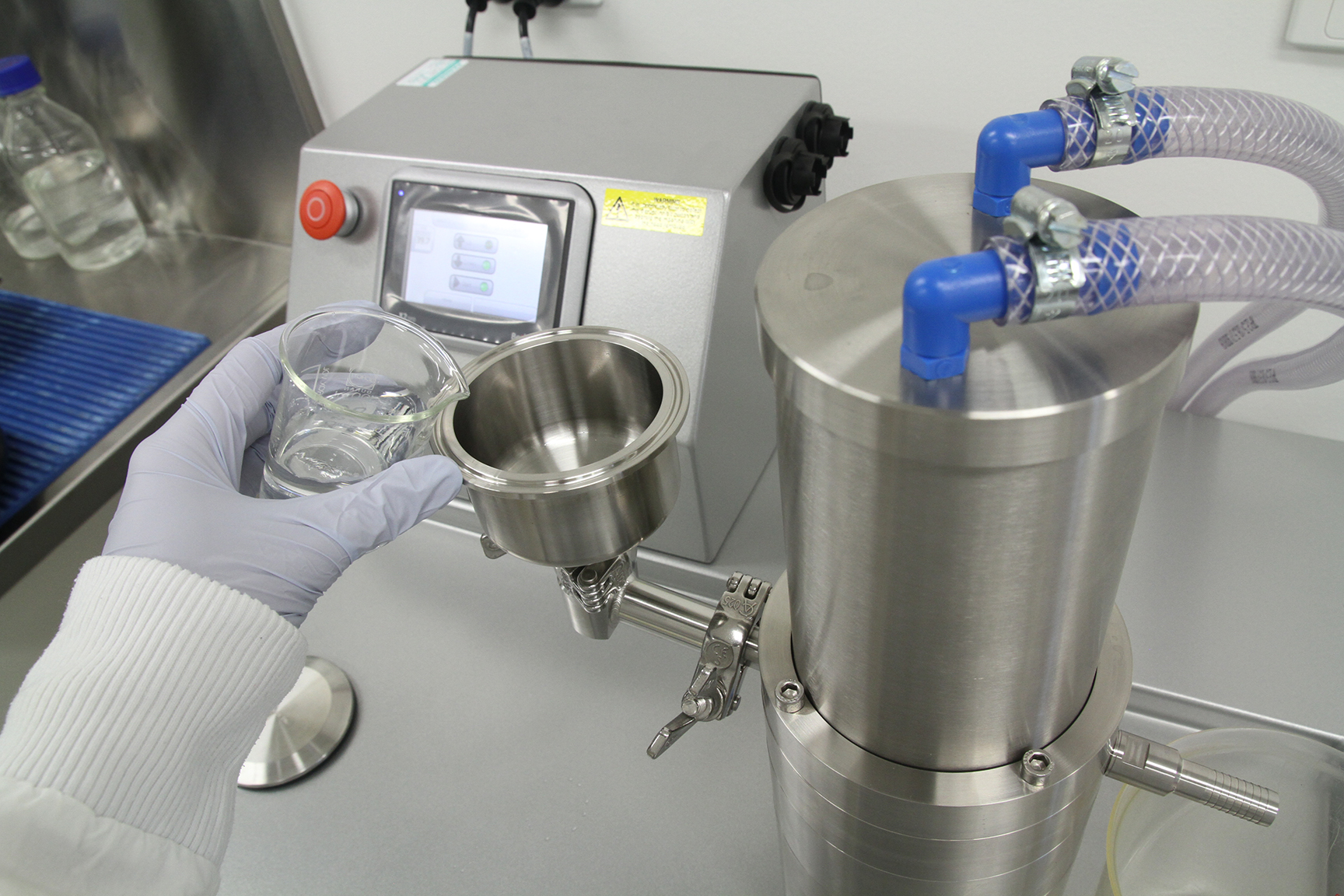 Prometheus NT.48 Arrival
December 2019
The Prometheus instrument has arrived in the labs on level 3. This instrument can be used to determine the stability of proteins, by measuring thermo-unfolding, refolding, chemical denaturing and aggregation all in one system.  This allows researchers to pick the ideal conditions for storage, maximizing protein stability and functionality.
For more information about this instrument see the video below and feel free to contact RPF staff to access it.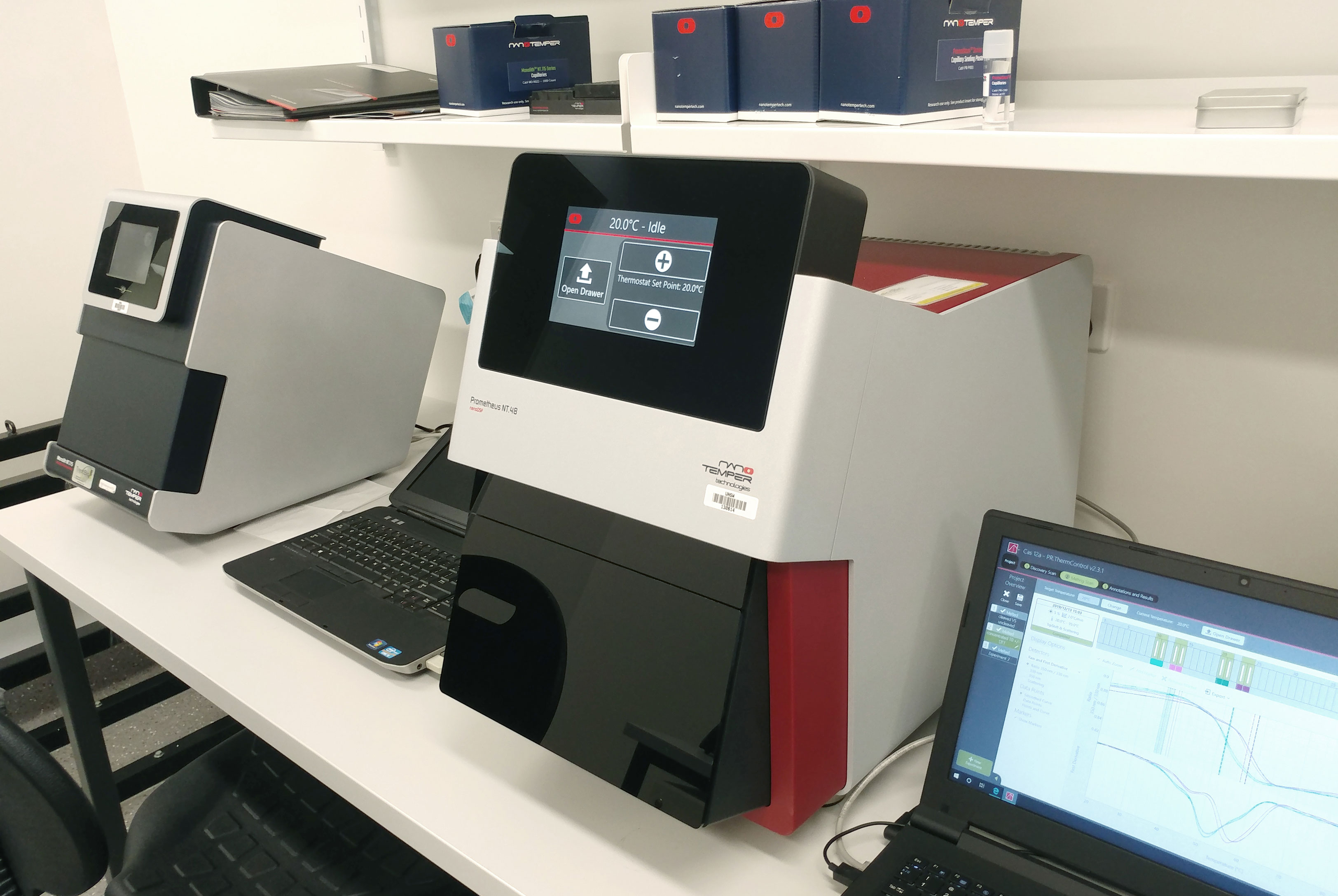 Trade Expo at The Mathews Pavilion, UNSW
November 21st, 2019 10am-1pm.
The Recombinant Products Facility attended the Trade Expo for a second time this year. The Trade Expo is a triannual event which features over 20 booths from UNSW services and external companies. It was a great opportunity for RPF staff to meet new UNSW staff and students who are interested in using the facility and for those needing assistance with their work. We were happy to see lots of familiar faces from our first attendance at the Trade Expo earlier this year and welcome the positive response from the UNSW community. Staff and students attending the Expo also enjoyed the catering, give ways, prize draws and free hot beverages available to participants.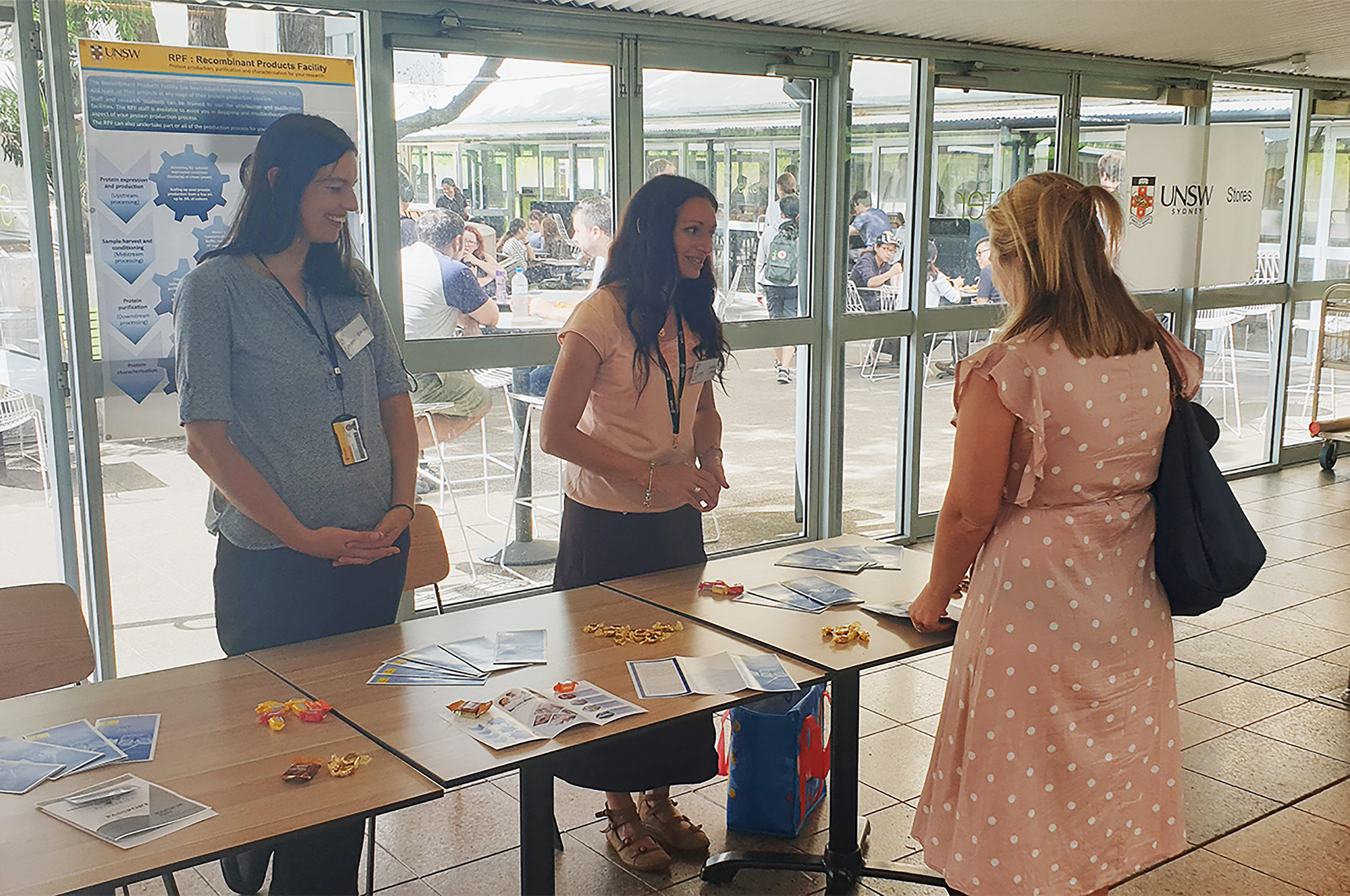 Protein Techniques Workshop
May 2nd, 2019  
Berg Family Foundation Seminar Room, Level 6, Wallace Wurth Building, Kensington
The Protein Techniques Workshop was co-hosted by our respective UNSW Network labs; The Recombinant Products Facility and the Molecular Surface Interaction Lab (link) in May 2019. Many staff and students at UNSW had the opportunity to learn about the techniques used to make and characterise proteins as well as how to utilise the great support and infrastructure available at UNSW. Topics discussed on the day included:
New methods in gene cloning – Dr Daniel Winter
Insect cell expression for membrane proteins – Dr Robert Healey
High throughput clone generation and characterisation – Dr Dominic Glover
Purification: chromatography basics and optimisation principles with case studies – Helene Lebhar 
Molecular Surface Interaction Lab - A/Prof Megan Lord
CryoEM; basic principles, access and skills - Dr Juanfang Ruan
Protein mass spectrometry and the BMSF - A/Prof Mark Raftery
This event was sponsored by GE Healthcare, Millennium Science and UNSW Research Infrastructure After the workshop, participants enjoyed the sponsor provided catering and were able to chat with workshop speakers.

RPF is relocating to D26
 May, 2019
At UNSW, The RPF has moved from the Samuel's building to the recently completed Biosciences Building, D26.  Altogether, almost 160 crates of RPF equipment and chemicals were transported and unpacked in the brand-new facilities. Located on level 3 of D26, RPF has dedicated areas for Chromatography, Microbial work including fermentation, Molecular Biology, Tissue Culture, Autoclaving and various Instruments for protein characterisation. The Recombinant Products Facility is now located alongside the Structural Biology Facility providing a seamless service to further characterise proteins from researchers within the university and industry. These world class facilities in the Biosciences building have improved the cohesiveness of the lab and provide users with more than 100m2 of OGTR PC2 Lab Space. Feel free to contact RPF staff for a tour of our facilities!